Jorge Santiago Arce was born in Bélgica, a working class neighborhood of Ponce, Puerto Rico. Ponce is a city well known for its rich cultural traditions and is characterized by the emergence and evolution of important Afro-Caribbean music and dances such as "Bomba," "Plena" and "Danza."
Half of Jorge's family comes from San Antón, mainly a black community known for the African tradition of Bomba music; the other half comes from the music tradition. His life in the "barrio" Bélgica was filled with Plena music. This experience, among other things, has contributed to his creativity and curiosity. In addition to being an actor, dancer, singer, and performer, he is also a cultural historian and researcher.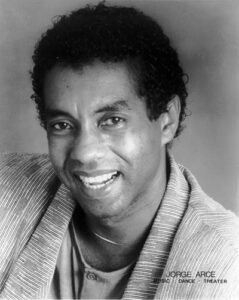 In 1969, he attended the University of Puerto Rico Drama Department, specializing in acting, pantomime and production. Since 1971 he has performed theater nationally and internationally, including International Festivals in the island and World Theater Festivals and Tours in France, Venezuela, Colombia, Panama, Amherst, Massachusetts, and Off Broadway, NY (1972-1976).
Jorge Arce's early exposure to Bomba and Plena in Puerto Rico, helped him to establish a direct relationship with "The Patriarch of Bomba and Plena," Don Rafael Cepeda ((1910-19960) 1983 National Heritage Fellowship Award by National Endowment for the Arts / Smithsonian Institution Washington, DC.) and the Cepeda Family in the early 1970's. He was able to include them in television, record and theater productions. In 1979 he wrote, composed the music, performed, directed, and choreographed the musical-theater piece "Melodía en El Caño," in which the leader and choreographer of the Cepeda's Family ensemble, Petra Cepeda, played a leading role.
This piece, broadcast as a TV special, was later recorded in the album "Tierra, Tierra" (Arto Max Records TFS 620, 1980) by Haciendo Punto en Otro Son, a renowned group of which Jorge Arce has been a member since 1978 and re-staged in 2020, at the Fine Arts Center of San Juan, this time his daughter, actress and dancer Charmaine Santiago playing the leading role. "Melodía en El Caño" has been used as reference material in schools in Puerto Rico as well as in public school systems in the United States connected to the Puerto Rican community. In 2019, Tarell McCraney (Oscar in Moonlight) selected an excerpt of the main theme of this composition to be part of his series "David Makes a Man, " produced by Warner Bros.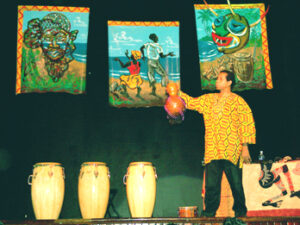 Throughout his career Jorge Arce has been involved in many important film and recording-projects, among them: "Del Caribe al Brazil" (Musicaribe LP M001;1986), and "Moriviví" (Disco Punto HPLP-001-1981). Both included Don Rafael's compositions. In all of them, the participation of members of the Cepeda family as guest musicians was very important. Most recently, he produced "Caribe" and "Compilation / Compilación 1993-1993", which features his original compositions and arrangements.
Arce toured the United States from 1975 to 1982 as an actor and musician. Since 1983, it has been Arce's responsibility to expand Bomba and Plena through workshops, classes, residencies programs and performances at school sites, festivals, parent and community organizations, and universities, thus becoming one of the most important cultural liaisons to the Puerto Rican community in the United States. After completing his educational program at Boston Conservatory (B.A. in Musical-Theater in 1985) he decided to share his experiences with youth and children and to learn more from the community of people who best knew the traditions of his native culture. At the conservatory, he attended the special dance program and trained in voice with the renowned baritone Robert Honeysucker, with whom he continued privately until 2017.
Jorge conceived the Humano Multicultural Project in 1987 as a result of an invitation to perform at the Ruiz Belvis Cultural Center in Chicago. About the same time, he became the coordinator of a successful cultural program in an human service agency and gained valuable experience leading cultural projects in schools and the community. He then rejoined the community as an artist and, by combining the elements of tradition with community and cultural awareness, Humano was born.
Jorge Arce received his Master of Education Degree from Harvard University in 1994. He also received a B.A. Arce is listed in Who's Who, 1984-85. In 2007, he initiated in Puerto Rico, his Doctoral studies in at one of the best schools of the continent on this respect the Center of Advance Studies of the Caribbean and Puerto Rico, located in the Old San Juan.
He has received numerous awards, including: the Cardinal Cushing Center Award for Outstanding Services to the Community 1987; the Alianza Hispana Recognition for Outstanding Contributions to the Continuing Growth and Success of the Hispanic Community 1991; the Mayor's Recognition to Outstanding Contributions to the City of Boston, 1991; and the Massachusetts House of Representatives Recognition for Outstanding Contribution to the Arts, 1991. His musical group Humano was awarded the Boston Music Award for Outstanding Latin Act, 1990.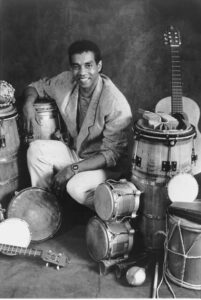 Most recent Awards and Recognitions, include: 2012 Traditional Arts Fellowship Finalist by the Massachusetts Cultural Council, 2013 Boston City Council Recognition for Commitment in Building a Better Boston, African Diaspora Arts & Culture Award 2013 for outstanding achievement in preserving diverse cultural arts forms reflective of African People in the Diaspora. Presented by ABDM, Inc., October, 2013, 2013 Honoree by El Jolgorio Three Kings Award, The Jorge Hernández Leadership Award 2013 for excellence in creative arts and expression of culture, history and pride of Latinos and the Latin American Diaspora, presented by IBA, Inc., 2014 Community Catalyst Award for contributions to arts and culture in Roxbury and Greater Boston presented by Hibernian Hall and Madison Park Project, the 2017 National Hispanic Heritage Month Community Cultural Recognition Award by the Massachusetts Department of Transportation and Mass-Port ,The Boston Foundation's BROTHER THOMAS FELLOWSHIP 2019, 2020 Excellency Award and Recognition (including City's Official Key and Banner) by the City of Ponce, PR. Jorge was recognized as a 2012 Traditional Arts Fellowship Finalist by the Massachusetts Cultural Council.
His cultural workshops and performances were programmed in thousands of schools, universities and educational centers. As a result of his experiences, his article "Bomba and Plena / African Retention in Puerto Rico" was written. It has been edited by Dr. Beverly Anderson, University of Connecticut, and was published by Calaloux Publications, N. Y..
Since 2004, Jorge Arce has successfully designed a research tour-program called Puerto Rico Cultural Heritage Tour for Universities and organizations who like to have a joyful one trip to Puerto Rico that include workshops and classes on Bomba and Plena music and dance, visual arts, traditional food, conferences on the cultural history, visit to historical places and special trips to beautiful sites in Ponce, San Juan and Loiza to get participants to enjoy the beauty of our African ancestry.
In the present time, he continues his educational and performing work in schools, universities, festivals and community events with his one-person show The Afro-Caribbean Workshop, his band Raíz de Plena and his Bomba dance and music ensemble: "Bombazo Boricua." Being fortunate to perform with his sons Gabriel (Percussionist), Marcel (dancer and choreographer) and his daughter Charmaine Santiago (actress and playwright), has been a force of inspiration. Among other events, he recently performed with the Boston Pops Orchestra, playing "Bomba" with his son Gabriel, for a symphonic suite arranged by young Puerto Rican composer and professor at Berklee School of Music, Edmar Colón, and joined by young percussionist from Puerto Rico Jeriel Sanjurjo and world renown Balla Kouyate, balafon player from the Kingdom of Mali, Africa.